Kevin Youkilis, Jeff Bagwell, Barry Bonds, Ichiro Suzuki.
What do these guys have in common?
Out of the ordinary batting stances.
Back in the 1930's there was another guy with an odd batting stance that caused a lot of talk- Mel Ott.
New York Giant's right fielder, Mel was brought up into the majors at the ripe age of 16 because Giant's manager John McGraw, was scared that his time in the minor leagues would mess with his more than interesting batting stance.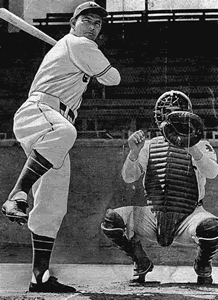 Known to lift his right leg prior to impact, this helped Ott with his power. Clearly it worked becaused Mel was the youngest player in baseball history to hit for the cycle, was the first NL player to surpass 500 home runs, was a 6 time NL home run hitter in 1932, 1934, 1936-38, and 1942. In addition to being a power hitter, Mel was also a 6x NL leader in walks.
"Whoa that's Smokey Joe Wood, and Mel Ott, and Gil Hodges!"
-Archie Grahm, Field of Dreams
After playing for 22 seasons in the major leagues, Mel managed the Giants from 1942-1948. His lax-a-dazy managing style left the standings for the Giants with much to be desired. In fact, then Dodger's manager Leo Durocher came to coin Ott's managing style with the phrase "Nice guys finish last!" He was insanely popular with his team and also with the fans.
"Look over there. Do you know a nicer guy than Mel Ott? Or any of the other Giants? Why, they're the nicest guys in the world, and where are they? In last place!" - Leo Durocher
After his stint managing the Giants, Ott teamed up with Van Patrick in 1955 as the radio and video commentator for the Detroit Tigers.
In 1951 Ott was elected on the first ballot with 87.2% of the vote to the Baseball Hall of Fame. His number 4 was retired by the Giants in 1949. Ott passed away tragicially in a car accident in New Orleans in 1958. He is remembered by the Mel Ott Little League in Amherst, NY, which was begun in 1959 in rememberence of this great ballplayer.
" 'O' is for Ott
of the restless right foot
When he leaned on the pellet,
the pellet stayed put."

-Ogden Nash, 1949